Tobacco Caye is a tiny five-acre island paradise. We are very lucky to be "bug free". We do not have any mangrove trees on the island (unique in Belize) and therefore the bugs - sand flies and mosquitoes - have no place to breed. So no need for bug spray. However, with well over 300 days of sun you should definitely bring sunscreen. Tobacco Caye offers premier diving from the novice to the advanced. If you are looking for peace and quiet - no phones, no TV, no traffic, just diving at its best - come stay with us!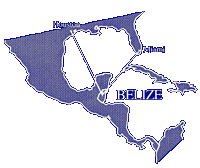 How to Get Here
Belize City is only two hours from Miami, Houston or Dallas, all with daily flights. After a short (15 minute) flight to Dangriga and a 30 minute boat ride, you're on the Caye ready to start your vacation, without wasting too much of your precious vacation time in transit.
The Diving
As you can see we are ten miles from the coast with many mangrove islands to filter the river's outflow, as well as the Belize Barrier Reef blocking any possible sediment. Our average visibility is over 100ft, with some days exceeding 200ft. We are the only scuba operation for 35 miles to the north, 20 to the east and 5 to the south, with no operation to the west. You will be on the only dive boat in the area. With over 20 miles of reef, most of your dives will be to virgin spots. If you would like you can "take a mark" and name your own site. We are located right on the Belize Barrier Reef and only 50 meters from the Tobacco Caye Channel, so diving in rough weather is almost never a problem. There are over a dozen sites less than 5 minutes from the dock, and not just any "local" dive sites, but some of the best you will find anywhere!