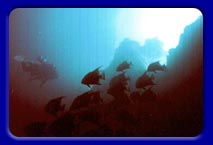 Southern Barrier Reef
Being the only dive operation around has its advantages. No wondering which dive boat to get into... you will be using only dive boat in sight. You will have over 30 miles/48km of the Barrier reef all to yourself, just you and some of the healthiest reef and tropical fish assortment the world has to offer. All of our local sites are truly extraordinary!
Tarpon Channel
You will be in awe as a school of up to 200 Tarpon swim around you. These wonderful fish grow up to 9ft/2.8m long and can weigh up to 300lb/190kilos, and reside in the channel from late March thru November. But don't worry if you are not there that time of year because the channel is the best shore dive in the country. It's the only channel for over 20miles/ 32km to the north and 5miles/8km to the south. As you can imagine, there is a great deal of wildlife that travels between the inner coastal area and the deep open ocean. Tarpon Channel is home to every species of tropical fish the Caribbean has to offer.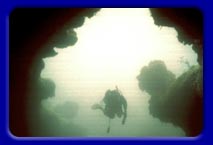 Shark Cave
For more advanced divers, a visit to Shark Cave affords an opportunity to see a variety of sharks under one roof. Black tipped reef sharks, nurse sharks, and bull sharks are the most prevalent, but divers occasionally encounter other types of sharks in the cave. Shark Cave is similar to the great Blue Hole in the fact that it was once an above ground cave with stalactites hanging from the ceiling. Bring your lights and your cameras for a not-soon-to-be-forgotten experience.
Belize's Three Atolls
Lighthouse Reef
Lighthouse Reef is probably Belize's most well known atoll, due to the fact it houses Belize's most famous dive site, The Blue Hole. The Blue Hole is a cylindrical hole about 500 meters in diameter and 134M/440ft deep. Jacques Cousteau made this site famous in the 1960's he came with his research team and explored it. The dive will consist of a 130ft drop to view stalactites and stalagmites from what was once an above-ground cave system. It is a truly once in a lifetime experience. This dive is for the advanced diver only. There is also over 60 miles/100km of reef with drop offs starting as shallow as 30ft descending to well over 5000ft/1524m. You will have a very good chance to see sharks at Lighthouse Reef. We can choose any number of known and unknown sites to dive here, any of which will be spectacular.

Turneffe Atoll
Turneffe Atoll is a pristine area known not only for its diving but its fly fishing as well. The inner lagoon has many schools of bonefish, and an assortment of jack fish. Turneffe Atoll is also well known for its abundant fish life. One of the better-known sites is called "The Elbow", the southern most point of the Atoll. It is a wonderful underwater playground that is not to be missed.

Glover's Reef Atoll
Glover's Reef Atoll is the least known and least dove of Belize's three atolls. The atoll was named after John Glover, a famous pirate who resided here in front of several of the cays. Many cannon balls have been found from the battles with the Spanish fleets. Although the least known, Glover's is the atoll that most resembles a "classic" Pacific atoll. There is over 72 miles/ 116KM of reef, many with drop offs starting as shallow as 25 ft/7.5m and continuing down to over 7000ft/2134m, an incredible sight to see. Glover's is often rated as one of the top 5 dive sites in the world. With an abundant wildlife that includes everything from juvenile spotted drums to manta rays. After diving Glover's, we're sure you will agree it is not a site to be missed.
Tobacco Caye Diving is the only dive operator offering all three atolls. Take advantage of our three-atoll package and be one of the few who can say they have dove all three of Belize's atolls.